A patient presented in clinic the other day with persistent medial knee pain. They'd been relatively fit, healthy and pain free and had introduced more running to their exercise regime. And on further questioning around the time the symptoms had appeared they'd also added more spinning, less sleep and more stress - pretty common pattern, but I digress!
So medial knee pain, what's the cause?
Like many of the people I see this patient was well informed and had pretty much tried everything, and more, to self-treat and manage the problem...
Ice, rest, stopping running, more ice, quad stretching, hip mobilising, vastus medialis strengthening, more ice, rest, sports massage, foam rollers, more exercise, less exercise...you get the picture.
The assessment begins
Well, no positive results to any of the normal provocative tests for knee pain. Thomas test is my tried and tested go to test for any knee and back pain - 9/10 patients test positive for some form of muscle dysfunction on this one. And they had one of the most 'normal' set of legs I'd seen.
And this is where previous therapists had also gotten stuck, this patient had come to me for a second opinion. No positive results, very very minor asymmetries, a patient who is very compliant and does 'all' the normal stuff you would recommend to fix the problem.
But hang on....lets look a little closer, something is must be up, just a case of discovering what it is, right?!
After some thorough palpation it became quickly apparent that the fascia was significantly compromised throughout the entire thigh - and a little further digging around the quads produced a beautiful referral pattern that completely replicated the symptoms they had been having.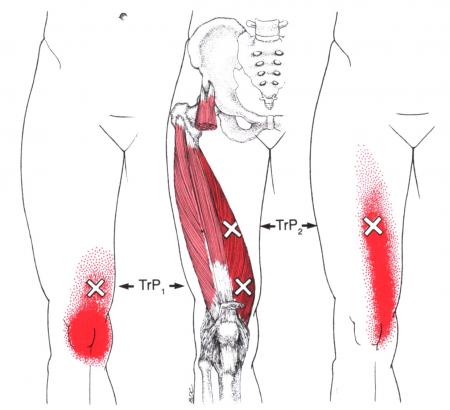 This referral from the vastus medialis was causing persistent pain just under the joint line on the inside of the knee, over time the pain had started to shift upwards; firstly to the joint line of the knee, then more recently creating an 'itchy' and burning sensation in the thigh.
Which fits trigger point activity perfectly!
So, if you're struggling with persistent knee pain - consider the involvement of trigger points. About 3/4 of the time an overactive trigger point will cause referral pain at a site other than the muscle it is located in.
Grab your lacrosse balls and start inhibiting those points!